Trending Articles ...
Here you will find a chronological list of articles from The Beverage Journal, Inc. Feel free to tag, comment and share.
Dragon Distillery: Breathing Fire into Canned Cocktails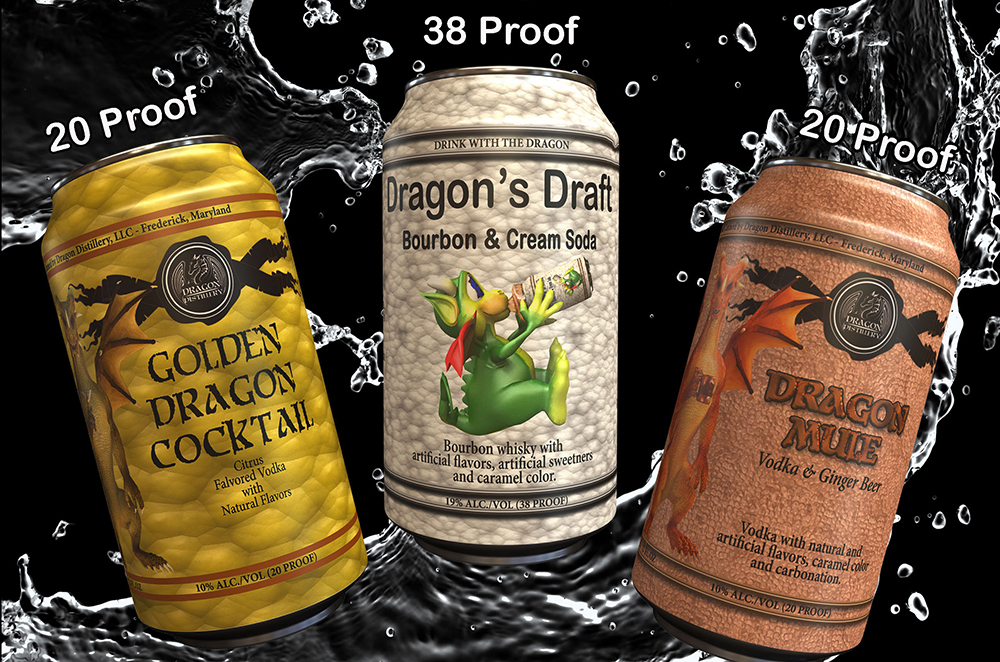 In Frederick, Md., here be dragons! Well, actually, here be the Dragon Distillery. It's the brainchild of founder Mark Lambert, a huge Dungeons & Dragons fan who wanted a beverage business that would specialize in small batch artisan spirits made from the finest locally sourced ingredients. He and his staff have breathed fire into this niche with such colorfully named products as Medieval Mint Flavored Vodka, Basilisk Bourbon, and Joust Gin.
Dragon Distillery's latest line is a series of canned cocktails that are appealing to a wide range of drinkers. Lambert, in a recent interview with the Beverage Journal, explained why: "The product is easy. You just grab it, you go! It's easy to take to parties, or when you're going out on your boat, or at the pool. It's a can, so there's no glass that can break. It's quick to chill, and it's ready to drink."
There are three canned cocktails in the current line-up, all lightly carbonated. The first is Dragon's Draft, a bourbon and cream soda. "At 38 proof, it's a little strong," Lambert conceded. "But it's delicious." The second is the Dragon Mule, which is Dragon Distillery's take on the classic Moscow Mule. It's vodka with Barritt's ginger beer and lime in a faux copper can. Third, there is the Golden Dragon, which is based on Dragon Distillery's Longbow Lemon Citrus Flavored Vodka. "We take that and add in a small-batch tonic made in Washington, D.C., by [True Syrups & Garnishes], along with a lemon-lime soda," noted Lambert. "Both the Dragon Mule and Golden Dragon are 20 proof."
As with all the company's bottled spirits, each canned cocktail features a dragon drinking in some way. Lambert remarked, "We don't take ourselves too seriously, and our can designs reflect that. Like our Dragon Mule has a dragon holding a copper mug drinking a Moscow Mule. One of the reasons we're doing the canned cocktails is because we're trying to push the envelope of what people can get here locally. We have a pretty large product portfolio, in general. But we're always looking to add to it."
One example of that envelope pushing is the Dragon Dog Frederick Rye. "We love our collaborations, in particular," Lambert said. "Dragon Dog Frederick Rye is a rye whiskey we do with Flying Dog. Flying Dog brews the rye mash, sends it over, and we ferment it, distill it, and barrel it."
In addition to such collaborations, Lambert's business has benefited from being a member of the Maryland Distillers Guild. "The Guild is fantastic!" he beamed. "It's a very collaborative group of peers. In other industries, there's a lot of competition. But I find in the distillery business, especially through the Guild, everybody's willing to help and everybody's willing to share when you have a problem or need information."
As far as the secret of Dragon Distillery's success, Lambert acknowledged that the answer isn't anything revelatory. "We just listen to our customers," he replied, "and we generally create products based on their feedback. A lot of distilleries vow only to make one product. 'I'm going to do whiskey, and that's all I'm going to do!' Well, that's great. But as a small craft distillery, we find that many people come in who have a wide range in interests. They'll say, 'Oh, I don't drink whiskey' or 'I don't drink vodka.' We try to have something for everybody."
He continued, "The canned cocktails grew out of that. We get a lot of people who come in with their significant other, and one is a spirits drinker and the other is not. With the canned cocktails, we can say, 'Why don't you try this bourbon and cream soda?' They've been amazingly popular."
To date, Dragon Distillery hasn't pushed its canned cocktails out to a lot of liquor stores, because Lambert didn't want to get ahead of production. "We're addressing those concerns and slowly offering them up to more liquor stores around the state," he concluded. "A year from now, I'd like to have six to eight canned cocktails, and I'd like to be in the majority of liquor stores in Maryland."
Click Here to check out the article as it appeared in The Journal.