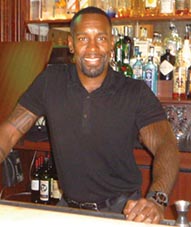 One might describe Garrick Lumsden, bar manager at the Passion Food Restaurant Group's popular Acadiana eatery, as a "company man."  Sure enough, he started in the hospitality business in the late 1980s on the corporate side, serving first as a corporate trainer for the Houston's restaurant chain.  After five years in that position, he moved over to the P.F. Chang's chain to serve in that same capacity.  
In those early years, he stuck close to his home market of Chicago.  "I did some traveling and opened up a few restaurants," he recalled, during a recent interview with the Beverage Journal.  "I got tired of Chicago and decided to move to New York City.  But I stopped in D.C. for a year and fell in love with it.  I never made it to New York!"
But the Windy City didn't completely leave Lumsden's being.  He served as pointman in opening Michael Jordan's restaurant in Washington when No. 23 played for the Washington Wizards in the early 2000s.  Bartending was always a passion, though, and he eventually found his way to Passion Food.  He worked behind the taps at the company's Ceiba for a couple of years before trying his hand at the sales side of the business, working for Washington Wholesale.  He found that it wasn't for him and decided to go back to bartending at Passion's Acadiana just prior to briefly opening his own restaurant called Toyland around 2010.  He eventually sold the business and returned to Acadiana as bar manager.