Trending Articles ...
Here you will find a chronological list of articles from The Beverage Journal, Inc. Feel free to tag, comment and share.
James 'Andy' Anderson: Leaving a Legacy that Exceeds Expectations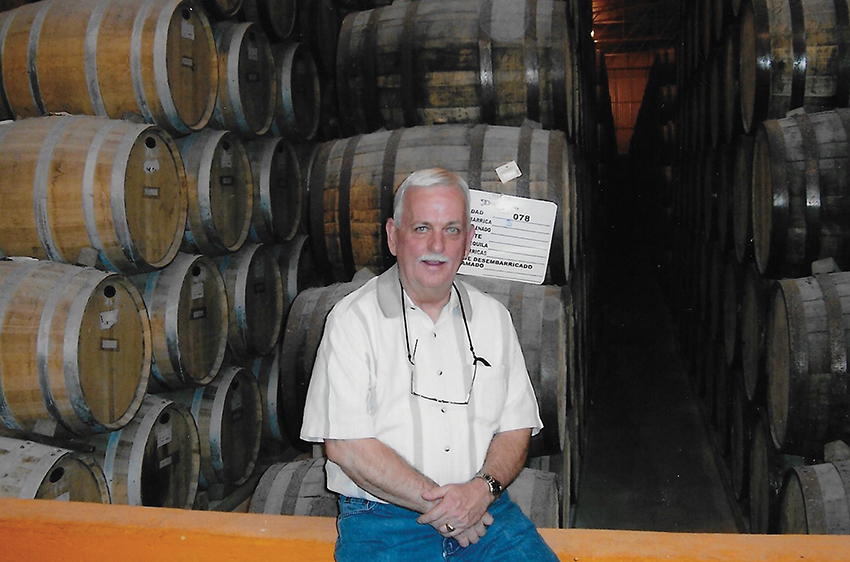 Apologies ahead of time to anyone I didn't get to talk to for this tribute feature on long-time Maryland beverage salesman James "Andy" Anderson. I know I missed quite a few of you. Because every time I would talk to a former co-worker, boss, or relative of his, that person would inevitably end the interview with, "Hey, did you also speak to so-and-so? No? Oh, you absolutely HAVE to get some quotes from him! He knew him best!" Maybe that was Anderson's secret magic. He made so many people in his professional and personal life feel like they knew him best. Anderson died on Jan. 31 after a battle with cancer. He was 75. Anderson grew up in the College Park/Greenbelt area and graduated from High Point High School in 1960. He first worked for the local telephone company as a lineman before getting involved in beverage sales.
He worked for Standard, retired from Reliable Churchill, then came out of retirement to sell for Prestige Beverage Group. His work ethic was practically legendary. But it was his ability to work with others and help them that really distinguished him.
His daughter, Kim Hanke, recalled, "He was known for being a mentor. Since his passing, I've heard so many stories from various individuals in the industry. And over and over again, I can't tell you how many people have said to me, 'I learned SO much from him!' I wouldn't be where I am today if I hadn't met him.' That's huge when you think about it."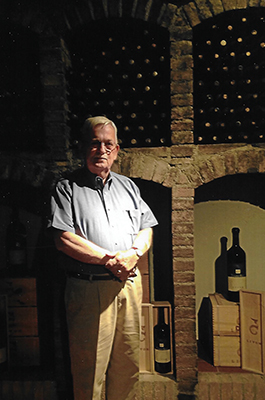 Some of the people he mentored are among the biggest names in our business. James "Jimmy" Smith Jr. of the Smith/Reliable Churchill dynasty recalled, "I learned the business from Andy. I was 22 years old when I started at Reliable Liquors in 1973. He had started in 1971, but he already knew so much. He made me come out and see his trunk. I asked, 'Andy, why do I need to see your trunk?' And he said, 'Every salesman should have this in their trunk.' It looked like a miniature Staples! He had markers and cardboard and stuff to do what a salesman does … to merchandise product."
Retired Reliable Churchill salesman Eddie Gardiner was one of his best friends, having met him in 1986. He also had a funny anecdote to tell about Anderson. "We introduced Wyndham Estates' Australian wines into the Maryland market," he recalled, "and it was around the time 'Crocodile Dundee' was popular. So, he and I had this bright idea of dressing me up in a bush jacket, a drover's hat, and a knife, and we'd pretend Andy brought me in from the winery Down Under. I developed an Australian accent and spoke like this all day. 'G'day mate! That's not a knife!'"
Gardiner continued, "The month before that, we had Jameson Irish whiskey at the time. So, I pretended I was from Ireland and the distillery brought me over, and I did a whole accent for that all day while Andy was my straight man. And I'll never forget. At the Wyndham event, this old retired officer walked up to Andy and said, 'Hey, you know that guy you got here from Australia. He looks an awful lot like that guy from Ireland last month!' Andy said, 'Excuse me, sir.' And he went to a back room and you could just hear him belly laughing!"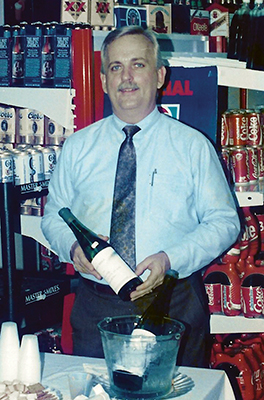 Even Hamke had a humorous story to tell of her father on the job. "One of the bosses, I can't remember his name, told me he went with one of his salesman on a call to a particular store. That salesman took off his coat, laid it down, and looked at the boss and said, 'Sir, you gotta take your coat off!' And he said, 'Why?' And the salesman replied, 'Because Andy said so! It's what you do!' My father always preached that when you go into a store, you take your coat off, you find a place for your own things, because they then know you're there to stay. You're committed to their success."
Most had a favorite personal memory of Anderson, too. For Smith, it was the time Andy got him on Air Force One parked at Andrews Air Force Base. "Andy had contacts, and he said 'Would you like to go on Air Force One?' I said, 'Oh, come on, Andy!' Whatever it took, he got us on. It was during Ronald Reagan's term, so we saw the famous jar of jellybeans on the plane. I still have the Presidential matchbox cover I took from the plane!"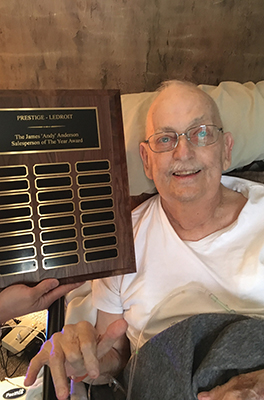 Bill Burrill, Director of Republic National's Severn Division, had known Anderson since 1997. In fact, when Burrill helped Jimmy Smith's late son, Joey, start Prestige Beverage Group in 2013, it was Burrill who proved instrumental in convincing Anderson to un-retire and help with sales. "My favorite memory of Andy?!" he exclaimed. "I heard he'd retired, and I heard he was bored. So, I had lunch with him and convinced him to come work for me part-time. A while later, my wife and I were having dinner with Andy, and he said to her, 'Your husband is the best salesman I have ever met!' And she asked, 'How is that?' And he said, 'He convinced me to come to work for him part-time … and now I'm working 50 hours a week!' But to Andy that was part-time."
All agreed that saying farewell to someone so special has been hard. But Anderson left behind a legacy, in ways both big and small, that people can take comfort in for the rest of their days. Smith fondly remembered, "My son, Joey, was the owner of Prestige Beverage and he passed away in 2016. I remember Andy telling me before that, 'Jimmy, my greatest thrill is now working for the third generation of Smiths. I worked for your father. I worked for you. And now I work for Joey. It's my honor.' I just lost it."
Prestige Beverage Group COO Alex Thompson concluded, "Andy hand-made a sign that hangs in my office. It reads 'Let's Exceed Expectations.' That was Andy. He kept rewriting and raising his own expectations for himself, and he never stopped exceeding them."
Click Here to check out the article as it appeared in The Journal.