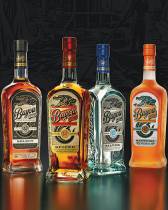 Bringing the Spirit and Spirits of Louisiana to Maryland and the District
When I was a little boy, to make me laugh, my grandma would spontaneously break into her rendition of Hank Williams' classic country song "Jambalaya (On the Bayou)." You know the lyrics: "Goodbye Joe. Me gotta go. Me oh my oh. . . . Son of a gun, we'll have big fun, on the Bayou!" Granny was a drinking woman, and I wish she was here with me now to sample some fine Bayou Rum.
Louisiana Spirits debuted its four variations of the product in Maryland back in May, and they've been hot sellers statewide ever since. Founded in 2011, the company follows an authentic "sugar house" recipe in gathering raw, unrefined cane sugar and molasses from M.A. Patout & Sons Enterprise Factory in Patoutville, La. Bayou Silver is the company's original, copper pot-distilled base rum. "It's a lot different from most white rums on the market," said Louisiana Spirits President Trey Litel, during a recent interview with the Beverage Journal. "It's colorless; clear; and has an almost grassy, fruity sort of aroma. It also has a wonderful flavor and after taste and is great for sipping on ice, or with cranberry juice, or lemonade."
...