Trending Articles ...
Here you will find a chronological list of articles from The Beverage Journal, Inc. Feel free to tag, comment and share.
Justin Hampton: Found the West Not To Be the Best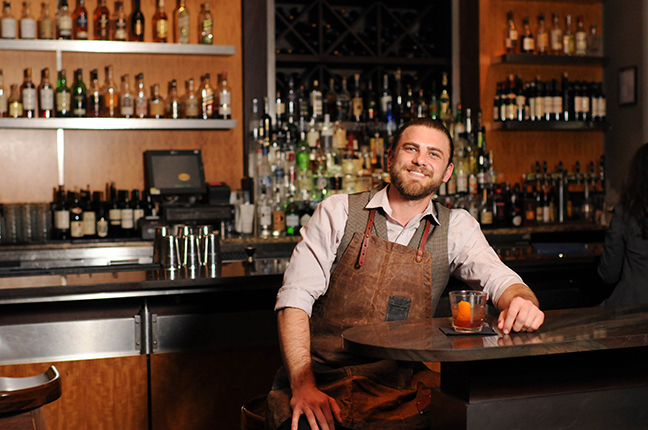 The Washington, D.C., drinking scene definitely has its share of rock-star bartenders. But few rock harder than Justin Hampton, the man behind the taps at Poste Moderne Brasserie inside the Hotel Monaco. After graduating a decade ago from San Diego State University with a degree in Social Science and a focus on economics, he went into restaurant management. His first gig? The Hard Rock Hotel in San Diego.
"I had worked my way as a waiter through college," he recalled during a recent interview with the Beverage Journal. "At the Hard Rock, the bartenders were walking out with several hundred dollars for working half the hours I did. When I saw that, I said, 'What's that all about?!' Those guys looked like they were having a lot more fun. I wanted to hang out with them, and I wanted to make that money."
After four years of spot bartending and learning on the job, he got involved in starting a food truck company in Boise that never got off the ground. Having a sense of adventure and a willingness to move, he settled in the District of Columbia and started working at Founding Farmers. "That was really a training ground for me," he said. "It was high-volume craft cocktails where you have to really know what you're doing and execute everything exactly the same and in a quick manner. I banged out cocktails every night for a whole year. It really perfected my skills."
After that, he took a job at Jack Rose. Downstairs from that, he ended up helping Dram and Grain develop into one of the most popular cocktail bars in D.C. Eventually, he heard that Poste Moderne Brasserie was in need of a head bartender and seized the opportunity. He helped put together the cocktail menu and took the lead on staff trainings. He also set about growing herbs, spices, and fruits on site to use in the establishment's cocktail program. "I like to make a lot of off-the-cuff drinks," he commented. "I bring a lot of ingredients from home that are seasonal. More than anything, I guess, I'm know for garden-to-glass drinks."
A social person by nature, Hampton remarked, "I really love interacting with the guests. They make me want to strive to be better than I was the day before. Hospitality is a big deal for me. I enjoy welcoming people and making them feel comfortable at my bar." He was also drawn to Poste because it boasts one of the biggest patios in the nation's capital, able to hold approximately 400 customers. As such, it a major Happy Hour draw.
In his current position, he's really come to see the contrasts between the Washington beverage scene and the one he cut his teeth on out in San Diego. "Customers are more savvy here," he declared. "They know more. They know drink recipes. They actually know how to make a lot of drinks! San Diego was more laid back. There is a huge beer culture in San Diego. From my perspective, D.C. is much more savvy about cocktails. People drink a lot more here, too. Happy Hour is what rules everything, and brunch is a major event."
While Hampton loves his job, he concedes there are challenges. As we chatted for this article, he had just celebrated his 32nd birthday. "As I am getting older," he noted, "I do think a bit more about the hours and the strain on my family and personal life. D.C. has a really terrific bartending community, and I get to be at or near the center of it. But my girlfriend and I barely see each other at times."
But when pressed, he conceded that he really has no interest in doing anything else. He knows he's found his niche. And for others destined for this career, he had this advice: "One thing I try to impart to new hires is 'We are there for the guests. The guests are not there for us.' To that end, be aware of what you're doing. Don't have too many side conversations. Be attentive to each guest, and remember that we are there to service them. It's also important to stay healthy. Stay mentally healthy, exercise, and stay in shape."
Justin's FAVORITE MOVIE: "Wayne's World"
CAN'T MISS TV SHOW: "Outlander"
HOBBIES: Gardening
Justin's BUCKET LIST: "I've been to four continents in my lifetime, and I plan on going to all seven by the time I die."
PERSON HE'D MOST LIKE TO SERVE A DRINK TO: His late Uncle Henry, who passed away from cancer in October 2008.
** It should be noted that Poste Moderne Brasserie is going to shut down temporarily in late spring, re-concept, and re-open in either August or September. Hampton will be heavily involved in the process.