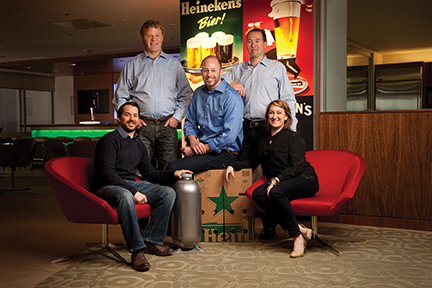 FOR BOTH ON- AND OFF-PREMISE, CREATIVITY GIVES HEINEKEN USA AN EDGE IN AN INCREASINGLY COMPETITIVE MARKET
As an international beer leader, Heineken has always looked to project quality and consistency as core values in their flagship product, especially when it comes to the lucrative draught sector. Of all the tradewinds now buffeting the giant brewers of the world, draught quality is among the most problematic for a variety of reasons but hasn't always received the attention it deserves. That is, until now, as Heineken USA is set to start the roll-out of what potentially could be a breakthrough in quality, consistency and environmentally sound beer delivery.
Called BrewLock, the new system was designed to solve some large and small issues relating to draught beer delivery by the Heineken Global team in Amsterdam, according to Patrick Libonate, On-Premise Commercial Marketing Director for Heineken USA. "Delivering consistent, quality draught beer is a worldwide challenge, and BrewLock addresses many of these obstacles," says Libonate. "It's very important to us that we are able to deliver the same beer everywhere, the best possible draught beer, without changing anything about the beer we make."
New Answer to Old Problems
As Libonate notes, BrewLock focuses on solving the thorny issue of delivering draught beer at the right level of carbonation. The first major difference is the keg—100% recyclable, single-use, 20-liter plastic containers, packed in easily stackable, rectangular cardboard boxes. The keg itself has two chambers—an outer PET shell that also provides protection from accidental puncture and the inner bladder which contains the beer. By pressurizing the area between the two, beer is forced through the draught lines by a customized air compressor and arrives at the tap as close to brewery quality as is currently possible, say Heineken officials.
"Inconsistency is the biggest challenge among draught beers," says Libonate. He envisions most of Heineken USA's brands eventually being available in this package if the roll-out goes as well as expected. (Standard kegs will continue to be available for the foreseeable future, he pointed out, and the company is also exploring larger format sizes.)
While standard keg systems use complicated, and sometimes expensive, gas and regulator systems to get beer through to the tap, the BrewLock system relies on normal atmospheric air to squeeze the inner wall of the keg and push beer through the lines. For operators, such an upgrade brings them one step closer to a foolproof draught system, as no gas actually comes into contact with the beer, which means no concerns over too strong or weak pressure or improperly mixed gas.
Heineken officials also expect that BrewLock will reduce draught system failures by half overall, and with kegs that weigh 25% less than stainless steel barrels and take up a much smaller footprint in a cooler, they anticipate savings and greater ease of handling all along the supply chain. Easier keg changing and simpler connections are promised as well.
There's also the matter of untapped beer left in the keg, a major issue and potential source of loss that can undermine the financial incentive of draught beer for operators. BrewLock, the company insists, will almost totally eliminate the problem. On average, the current yield for operators is anywhere between 85 and 90% from a standard keg. "With BrewLock, users will get 99% or more of the beer out of the keg," Libonate says.
Good Thing in a Small Package
For distributors and Heineken USA, the smaller draught package also potentially opens up the market of smaller operators who declined draught beer fearing they couldn't recoup the cost of gas line installation or wouldn't serve enough beer to justify ordering large kegs. Pizza shops, small casual dining outlets, even small outlets at busy golf and resort locations, now seem logical targets for draught expansion.
Libonate says not only will small operators who previously declined to serve draught beer find BrewLock compelling; feedback from large accounts indicated appreciation of the beer's quality enough to consider taking it on, he said. And the resulting beer seems to be hitting the right spot; so far in test markets, Heineken reports about a 10% sales bump.
The potential for space saving also intrigued some large scale operators, he said, who are considering multiple serving areas for draught. With the battle for tap handles getting fiercer as craft beers develop their local markets, BrewLock is also seen as an aid in the tap handle fight for the Dutch brewer.
The BrewLock system—set to roll out via distributors in New York, New Jersey, Massachusetts, Florida and Illinois—will be available only for Heineken and Newcastle Brown Ale, at least initially. The company is using a phased approach to introduce the technology to new states over the new few months and expects to fully expand to a national level in October. Easy to stack in a cooler, easier to handle and maneuver, the system also promises a smaller carbon footprint all along the supply chain, and perhaps will eventually resolve the long-standing distributor issue of lost kegs.
No change is cost-free, but Heineken USA estimates that changing over to BrewLock will typically top out at $500 or so for most operators, and that the change can be done quickly.
If the response at Heineken USA's annual National Distributors Conference was any indicator, BrewLock is an idea whose time has come none too soon. Of all the exhibits, the BrewLock booth serving Heineken and Newcastle Brown Ale was the busiest, as distributors flocked to examine how the draught system worked and to taste the net result.
Only the results of the roll-out of BrewLock will be able to determine the next step for the company's draught strategy. Previous initiatives to educate all along the supply chain about the importance of proper draught service segued into programs to teach on-premise operators how to build draught systems better and serve draught beer at a higher quality level. Operational flaws—pre-pouring draught beer into plastic pitchers for swifter service, using plastic glasses or, worse, improperly cleaned mugs—have long challenged quality draught service, and Heineken has been addressing them with distributors and on-premise accounts. BrewLock is their latest move to make sure the beer they brew is the beer customers receive.
Target Consumers
Meanwhile, the company recently announced a series of product releases, marketing efforts and strategic moves they hope will capitalize on recent break-through successes and current trends.
Key to Heineken USA's current approach is the identification of the type of consumer most important for the various Heineken brands to target for their newest marketing, advertising and promotional efforts. Heineken USA's marketing leaders have identified their target consumers as highly social and high-energy people who seek out extraordinary experiences and occasions. At the company's National Distributors Conference, Heineken USA President and CEO Dolf van den Brink pointed out that their target consumer is "more Red Bull than Starbucks, more GoPro than Whole Foods." In other words, not the type to chat over their beverage choice, but rather people who find beverages to be something that amplifies their lifestyle. Currently, these consumers favor imported beer and clear spirits, said marketers, but beer overall is underrepresented among them, and that's where Heineken USA hopes its latest efforts will help them succeed.
Van den Brink pointed out that the beer business as a whole was facing some serious questions, and that creating beers to appeal to drinkers who had moved to spirits required innovation, although there were major bright spots for the company last year; for instance, according to Nielsen, the impressive growth of Tecate Light (up 42% in 2013) and Dos Equis (up more than 21%), as well as, in the burgeoning cider category, Strongbow's nearly 67% increase.
Still More Innovation
For Heineken itself, beyond BrewLock, innovation includes the introduction of the 8.5 oz. slim can that the company terms a million case opportunity with a nine market out-of-home push in June, along with a 15% increase in media buys and a focus on building the power of the brand's sponsorship of the Champions League, the major European soccer competition whose final is the largest watched sporting event in the world.
For Dos Equis, said to be the fastest growing brand in the top 20 on-premise, growth is potent even in markets like Texas, the brand's biggest. To expand Dos Equis's reach and develop one of Heineken's stated goals to take back share from spirits, the company introduced the Dos Equis Dos-A-Rita Lager Margarita, a 7.2% alcohol by volume (ABV) Mexican beer mixed with lime and agave and targeted at Margarita fans. The flavored or mixed beer segment is showing a high rate of growth, indicating that consumers are more open to experimentation and variety beyond regular beer. While other Margarita-aligned beers are on the market already, this is the first imported Mexican version in the U.S.; it launched in April at retail in 11 states, mostly southern and western, in 24 oz. cans and 8 oz. can 12-packs.
Also along those lines, the company has introduced in some markets Desperados, a brew blended with tequila barrel-aged lager and lemon. A Latin-inspired European import, Desperados will be offered at first in Georgia, Florida, Alabama, Tennessee and North Carolina. Officials termed its performance in Europe, especially France, a resounding success, and for the on-premise, distribution will be focused on nightclubs and bars.
Based on the explosive success of the cider market in the U.S., the company is debuting Strongbow Gold Apple and Strongbow Honey & Apple hard ciders (they will be phasing out their original recipe). In a new clear bottle, both Strongbow Gold Apple and Strongbow Honey & Apple are 5% ABV.
Among other seasonal brands to be pushed and promoted this summer is Amstel Radler. The popular European style beer-based beverage differs from most radlers and shandys on the market in that it is a mix of beer with lemon juice, as opposed to lemonade. Amster Radler is available in select markets through August.
All things considered, as important as BrewLock is to the flagship brand, the company is clearly committed to spreading the attention around. Heineken USA executives continue to push back against the rising craft tide, keeping quality, consistency and bold innovation at the forefront. 
Written by Jack Robertiello
Photo By Andrew Kist