Trending Articles ...
Here you will find a chronological list of articles from The Beverage Journal, Inc. Feel free to tag, comment and share.
Ellicott City ... Staying Strong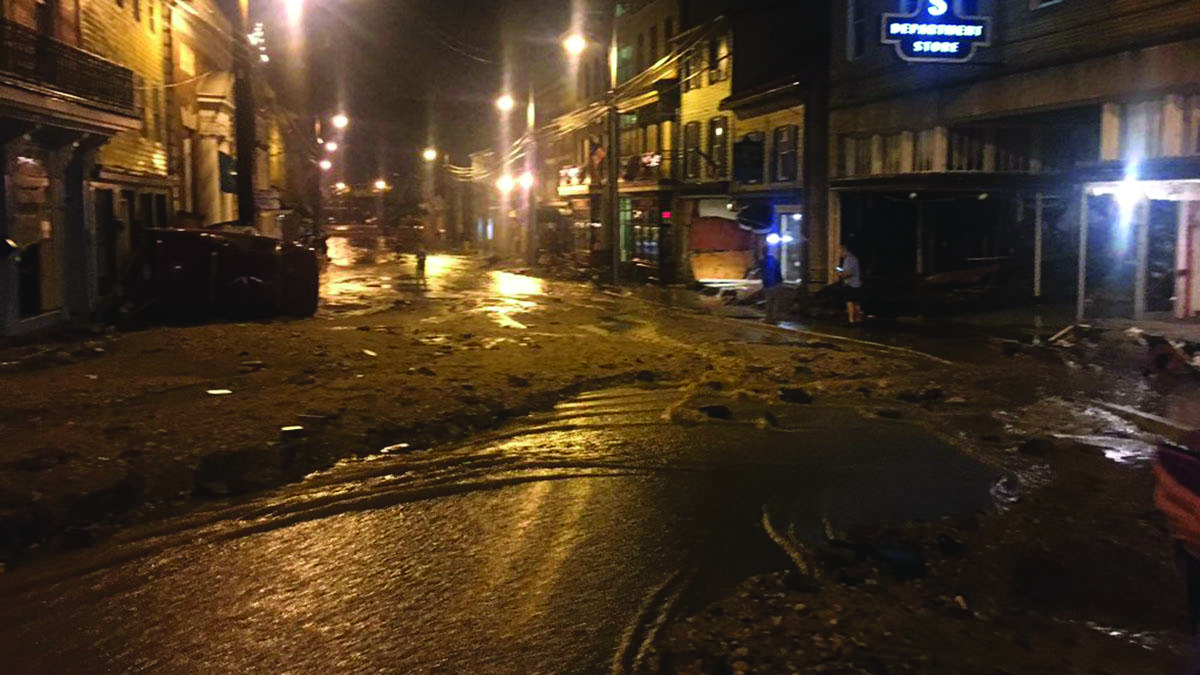 People often say they will always remember where they were when John F. Kennedy was shot, when the Space Shuttle Challenger blew up, and when the planes hit the Twin Towers. It's very safe to say that folks around Maryland and Howard County, specifically, will always remember where they were when the floodwaters hit Ellicott City's beloved Main Street district.
It was the evening of July 30, a swingin' Saturday night where people had come to eat, drink, and be merry at many of the popular bars, taverns, and restaurants that have made that area of the Baltimore suburb such a popular destination for people young and old. But six inches of rain in two hours changed everything. The ensuing flash flood caused severe damage in the historic district, particularly along Main Street. Many businesses, sidewalks, vehicles, and more were destroyed by the rushing waters, including the town's landmark clock. Two people lost their lives.
THE EVENT
Most of those who worked at the eating and drinking establishments affected were, of course, on the job. Owen Hanratty, owner of Cacao Lane, recalls, "I was most definitely there. It was a pretty heavy rain that got really aggressive, but it was still fairly standard for the area. We were all taking it lightly at first. But the water rose so quickly. It was coming up through the floor and through the front door. Then, as cars started bouncing off buildings, I escorted everybody up to our second floor!"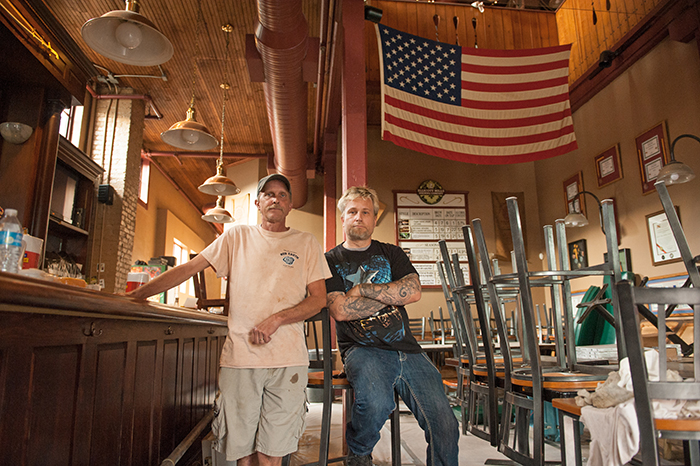 Timothy Kendzierski, co-owner of the Ellicott Mills Brewing Co. (pictured with co-owner Rick Winter), was also at his post. "It was right toward the end of dinner rush," he remembers. "I was in the basement, and the water started flowing down there first. We got everybody, customers and staff, upstairs as quickly as we could. Once we did that, I went back down to get my cellphone and keys, and there was already two or three feet of water. It came in so quick. It all lasted only about an hour, but it felt like four hours. It kept coming and coming."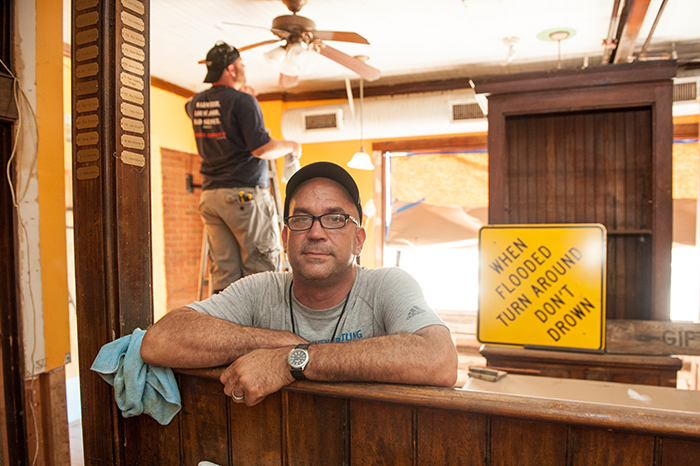 Mark Hemmis, owner of the Phoenix Emporium, was giving himself a rare diversion. He had gone to the movies. He still feels bad about it, stating, "I got down there about 30 minutes after the water rushed through. I pulled up about a mile from the scene. The sidewalk in front of the Phoenix was just gone. There was an employee who literally reached out a rope to me to pull me across and into the Phoenix."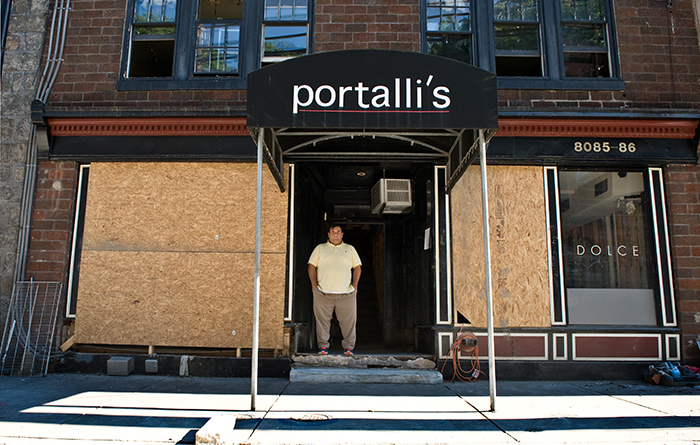 Also elsewhere when the tragedy hit was Evan Brown of Portalli's. He had gone out to dinner, but headed back to his business immediately upon learning of the developing disaster. He got as far as the corner of Old Columbia Pike and Main Street when he made the rest of the trek on foot in knee-deep water, avoiding sinkholes that had suddenly formed.
"When I got to Portalli's," he laments, "water was spilling out of the front windows. You just can't properly describe the level of destruction. It was catastrophic. You see the business you had built either destroyed or twisted apart. I started to feel really sick, and I realized it was a gas leak. And there were all of these people wandering everywhere with these blank faces. We were all in shock."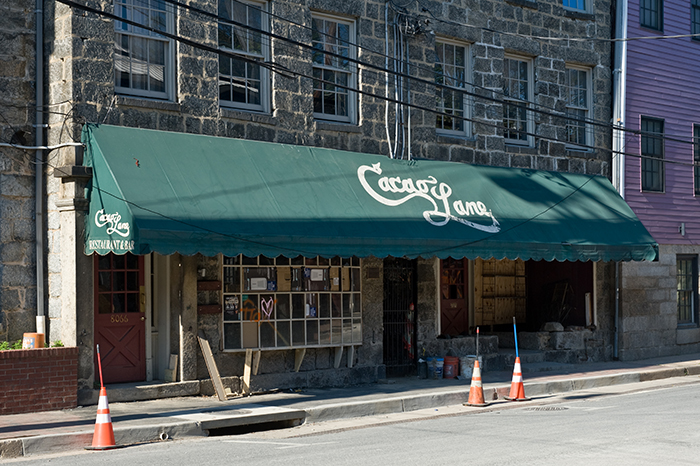 THE IMMEDIATE AFTERMATH
The devastation was indeed catastrophic. But in the hours and days that immediately followed, a new motto was born. "Ellicott City Strong." This was a community that came together, and the bar and restaurant owners almost immediately took a leadership role. Cacao Lane's Owen Hanratty remarks, "I had people from other restaurants drive generators down. They've loaned us tools, sent over staff to help. Of course, everyone in town has been willing to help each other. It's been no big deal to go across the street with tools and help a small shop owner or to share things people need."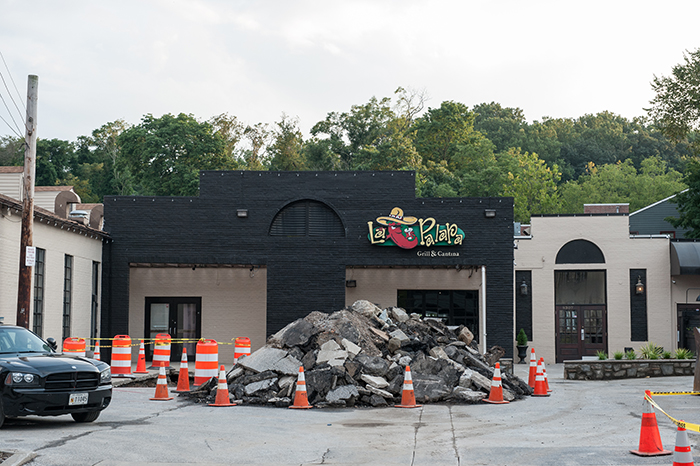 Hemmis added, "I had a bunch of supplies donated very early in the process before we could even get back into the place. I had 20 pairs of boots! When we were done with them, we put them in a wheelbarrow and walked them up to Portalli's. We said, 'Now they're your boots.' As we no longer have a need for things, we just pass them up the street." Hemmis and his staff got the boots and other supplies through Courtney Watson, a former Howard County councilwoman for the district that Ellicott City is in. She's an insurance salesperson now and wanted to help the town and street she's always loved.
Brown of Portalli's was eager to accept the help. "We probably had about 100 people show up that first Saturday to assist us. We were bumping into each other actually, so we tried to send groups of 10 to other businesses on the street. Jailbreak Brewing Company was particularly phenomenal. They put a fundraiser together within three or four days after the disaster and raised upwards of $60,000."
Gina Mattera, event coordinator for Jailbreak Brewing in Laurel, made it a personal mission to help out. "I woke up to e-mails the morning after the flood occurred from our founders, Kasey Turner and Justin Bonner. They're really the ones who got the ball rolling so soon after hearing what had happened. That was Sunday, and we had the fundraiser on Thursday."
Jailbreak was also able to rally some of the area companies it has good relationships with like Raytheon and Booz Allen Hamilton for monetary donations. Before the actual event even happened, Mattera estimates she and her colleagues were able to raise around $20,000 just from business pledges. "We're a local microbrewery. So, local is very important to us. As a young company, we said, 'Wow! That could have been us if we were located there.' All you want to do is be able to help in any way you can."
The Heavy Seas taproom in Halethorpe was another industry player that also answered the call almost immediately. Fred Crudder, Director of Marketing and Hospitality, stated, "What we did was take our two busiest days where we offer public tours, because we knew we would have a crowd regardless, and we donated 50 percent of all of our sales to the Ellicott City Partnership. Community involvement is important all year-round, but it's especially important for businesses in a time of crisis. Without the community, we don't get to do what we do."
He continued, "We were also a collection point for clean-up materials. When we went to deliver those materials, though, it turns out they had been overwhelmed with such donations. So, we still have a lot of things, but we'll wait and see what the needs are and respond appropriately."
SUPPORT FROM OUTSIDE THE FLOOD ZONE
Perhaps the most remarkable thing that has happened since that fateful night is the way Maryland's entire hospitality industry has come together to help. Years of intense competition, rivalry, and even grudges have seemingly been put aside. The fundraisers have been many. But what's been remarkable is how many suddenly out-of-work waiters, waitresses, bartenders, and kitchen staffers have been given work by bars, taverns, and eateries in Columbia, Ellicott City, Catonsville, Baltimore, and elsewhere.
"Some of my employees have obtained relatively full-time work with some area bars," noted Hemmis, "G.L. Shacks has given at least two of my employees relatively consistent shifts. Another was hired by Southern Provisions in Canton. Smaltimore, also in Canton, hired one of my people."
Rick Shackelford, owner of G.L. Shacks Grill in Catonsville, confirms, "We indeed hired a couple of employees from the Phoenix Emporium. One's a bartender, and the other is a server. They're both going to go back to the Phoenix when they're back up and running. I admire them. They are showing a lot of loyalty to Mark, and Mark is showing them loyalty throughout all of this."
G.L. Shacks has also jumped on the United Way's popular "EC Strong" T-shirt drive. Shackelford estimates his establishment alone has sold between $1,300 and $1,400 worth of the shirts as of early September. "The best thing about that is 100 percent of the sales went to Ellicott City," he pointed out.
Brown of Portalli's added, "Nottingham's in Columbia, T-Bonz Grill & Taphouse in Ellicott City, and Bare Bones Grill and Brewery in Ellicott City have all helped our people find work. I know a lot of my staff went downtown to the Atlas Restaurant Group. They said, 'Send me your people, and we'll take them.' I sent them everyone I could, and Atlas took every single one of them! Don McCafferty and Alexander Smith are just amazing. I couldn't believe they took everybody."
It would be impossible to list all of the eating and drinking places that have helped out in this way. But interviews with these and other affected Ellicott City operators made mention of Della Rose's Avenue Tavern in White Marsh, Bad Decisions in Fells Point, and Dock Street Bar & Grill in Annapolis all holding fundraisers and/or hiring employees in need.
Kendzierski chimes in, "It's not like they've said, 'Well, we'll give you a Monday night.' No, they've sacrificed some of their busiest times for us. Friday and Saturday evenings. That's impressive. We've also had bigger organizations like the Green Turtle and the Power Plant reach out and say, 'Hey, we can absorb some of your staff temporarily until you guys get back on your feet.'"
Hemmis, who also set up a GoFundMe account to help his out-of-work employees, beamed, "I've never seen teamwork between bars and restaurants like this. We're all friendly with each other. But, when business is normal, we're all competing with each other. That's all literally disappeared for now. There's been a real unified front."
THE FUTURE
So, where does Ellicott City go from here? What's the future? Remarkably, some businesses -- notably ones like the Wine Bin and Judge's Bench Pub on the western end's higher ground -- have already managed to re-open. But for a business like the Phoenix Emporium, which is at the very bottom of Main Street, it's a whole other story. Hemmis in late August said, "If the rest of Ellicott City was 100 percent in the condition I'm in right now, it would take me about three months to get open."
Ellicott City Brewing was more fortunate. "We could probably have our place open in a week," Kendzierski said. "But we're on the upper end where we didn't get as much damage as on the bottom end. But they have to rebuild gas lines and infrastructure. Sidewalks have to be redone. Right now, it's waiting for the public officials to get the town safe and ready so people can have places to park, walk, and get back to us. It's a process."
The biggest frustration has been the change in lifestyle for these long-time industry pros. Fortunately, most are keeping a good sense of humor. Brown comments, "Social interaction is huge for people like me in the hospitality world. Sitting in a quiet house each evening is NOT normal for people like us."
Hanratty added, "This was a huge destination spot, as far as food and beverage goes. A lot of people would come to our businesses for special occasions or just to meet up after work. That displacement has been hard. I've heard from a lot of people who've basically said to me, 'Do the best you can … but hurry up!'"
He concluded, "You also have to realize that bar and restaurant people are used to working day and night. These aren't office jobs. Our people are geared towards pulling all-nighters. When you remove those hours, it's really tough. No one works harder than we do … and almost no one parties harder either. You do NOT want to give these people an extra 12 hours a day for too long!"
Want to view the article as seen in the Journal? Click Here
Nottingham's in Columbia hosted "OldECStrong JamFest." The all ages event featured live music, cook-out type food, drinks and much more. The event was a fundraiser open to all, however it was obviously a great opportunity for the staffs of the affected establishments to get together away from the devestation (not just the structural, but the emotional as well) and enjoy eachother's company. Below (top to bottom) are the staffs of La Palapa, The Phoenix Emporium, and Cocao Lane at the OldECStrong JamFest.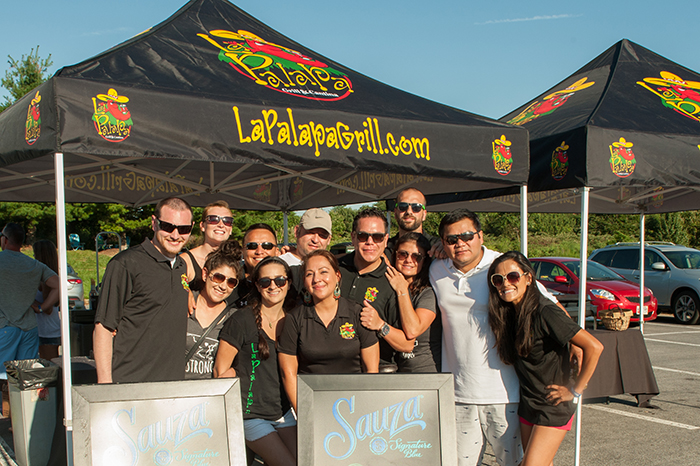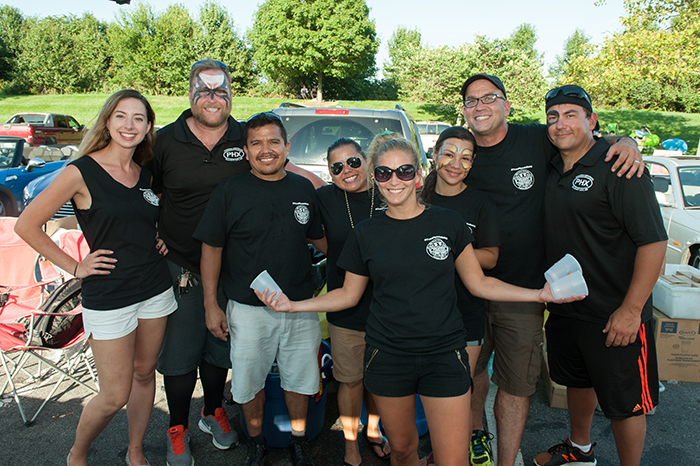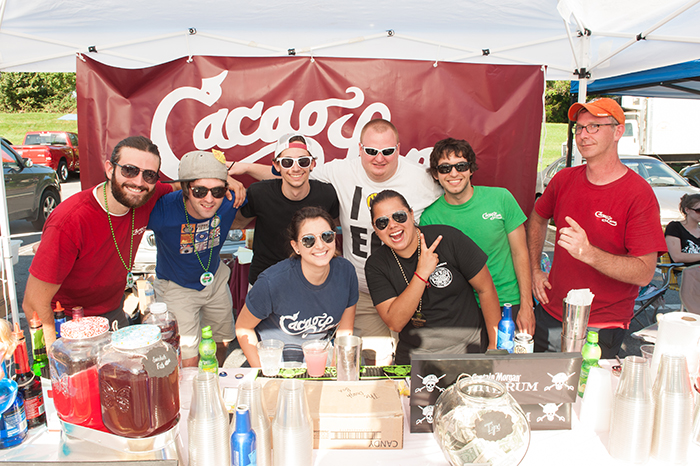 Want to view the article as seen in the Journal? Click Here