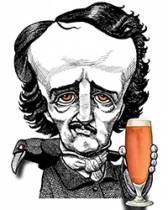 You don't come across a lot of people in the beer business who also have a PhD in Molecular Biology and Biochemistry. Meet Stephen Demczuk, co-founder of Baltimore-based RavenBeer. The Dundalk native was doing post-graduate work at the University of Geneva in Switzerland when he fell in love with beer. "I had what I call a few 'near-religious experiences' with beer," he stated, during a recent interview with the Beverage Journal.
Beer became a professional side passion of his. When he wasn't in a lab, he was traveling Europe, visiting different breweries, and writing about his experiences for such publications as American Brewer. He eventually "dropped out of science" to pursue a career in beer full-time.
His first success was launching Beer Around the World, the first European beer of the month club. "I started packaging and shipping beer off from small breweries around the world," he recalled, "up to 15 countries we shipped to in Europe. I would bring the beers in and pay the fees and tax. Once you pay the tax, you can do with the beer what you want over there. There is no three-tier system. You can box it, sell it, distribute it, take it to your restaurant, whatever you want."
...