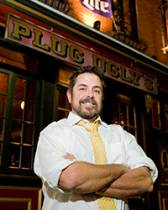 Behind the Bar At Plug Ugly's
Mark Walker, bartender extraordinaire at Plug Ugly's Publick House in Baltimore, still remembers the first time he ever poured drinks professionally. It was on a particularly busy night at Charm City's fabled Hammerjack's, and The Alarm was rocking out on stage. "Yeah, my first training shift was a sold-out concert," he recalled, during a recent interview with the Beverage Journal. "There was probably around 2,000 people there. My boss looked at me and she said, 'Well, Mark ... sink or swim!' I guess I swam."
Walker has been doing more swimming than sinking ever since. A lot more. Last year, in fact, he was named one of Baltimore's 10 Best Bartenders by the Baltimore Sun. With well over two decades of experience, Walker got his current gig at the popular O'Donnell Street restaurant and watering hole because of his longtime friendship with co-owner Tommy Welsch. "He's a really good friend of mine," Walker said, "and I actually waited for him to open this place up for two years while I was working elsewhere. As soon as he opened the doors, though, I started working for him."
...